Eid 2018 Special Recipes: 5 Vegetarian Delicacies To Prepare This Eid-ul-Fitr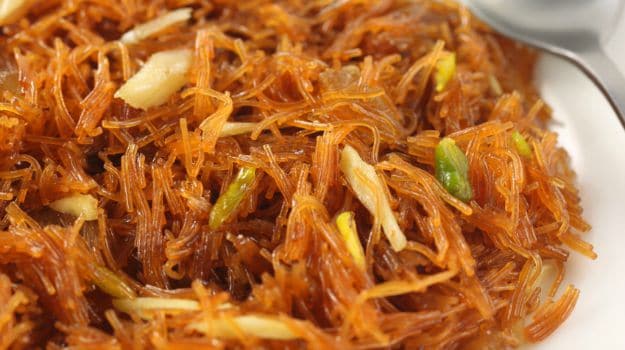 Today, 16th June 2018, it is Eid ul-Fitr and we couldn't be more excited; after all it comes after a month-long fasting period called Ramadan. Muslims across the country celebrate this festival with much zeal and fervour. On the day of Eid ul-fitr, also known as Meethi Eid, people prepare some traditional desserts, especially sevaiyan. Most like to host a grand Eid party with friends and family. While this festival has people on their toes preparing non-vegetarian delicacies on this day, there are some vegetarian friends you'd love to host too. If you haven't thought of what to prepare for vegetarian lovers, this Eid-ul-Fitr we have got you covered.
We suggest some Eid special vegetarian recipes you could prepare for your friends.
1. Dahi Vada
Vade made of dhuli urad dal, deep fried and served with fresh yogurt teamed with some tangy chaat masala. Dahi vada can be a great starter for your vegetarian friends. You definitely need to add this one on your list!
This one's not a normal eggplant dish; but a spicy mix of a variety of spices, tamarind and coconut. Serve it with jeera rice and impress your guests on this special day. This recipe is bound to make you fall in love with the dish.
3.  Pashtooni Zarda Pulao
Prepared using lots of nuts, saffron and rose water, this pulao is a must-have on Eid. Don't forget to garnish it with khoya and nuts like cashews, almonds and pistachios to give it a rich taste.
4.  Kilikoodu (Savoury Snack)
This savoury fried snack comprises the goodness of mashed potatoes, carrots and onions with the complex flavours of pepper, coriander and garam masala. It makes for a great starter on this special day.
5. Double ka Meetha
What's Eid without something sweet? Double ka meetha is a delicious dessert prepared using bread, milk, sugar, nuts, ghee, and cardamoms. This Indian bread pudding is surely a festival delight and shouldn't be missed out.
This Eid, make it special for your guests and include a delectable vegetarian fare. Let us know what all you are preparing for Eid 2018 in the comments section below.
Eid Mubarak!