Princess Diana's fashion legacy to be celebrated at Kensington Palace
Twenty years after their flower-covered gates became her unofficial shrine, an exhibition at Kensington Palace reframes Diana's story, from the tale of a tragic princess to that of an empowered modern woman who shaped her identity.
Diana: Her Fashion Story casts her not as a victim, but as independent-minded and active in championing her personal goals and the causes she supported.
A unique lineup of dresses charting her journey from teenage ingenue to international star makes the case for the princess as a pioneer of visual messaging.
Curator Eleri Lynn, who collaborated with Diana's favoured designers and photographers in staging the show, said: "Everyone who worked with her recalls that she knew what she liked and was very active in her own image-making."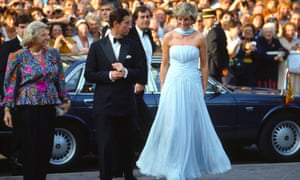 Diana's success as an image maker was reflected in the fact that "many of us have the impression that we knew what Diana was like, in some way", said Lynn. "When I got into the research, it was a surprise to discover how little footage there exists of her speaking. The Diana that we think we know comes to a great extent from still photographs."
Lynn said the emotional power of Diana's style narrative came from the fact that to some extent, this was "a journey most women go on – from being a hesitant teenager, to maturity and confidence. But she did it on the international stage."
In 1980, Lady Diana Spencer was so guileless that the first published images of her as Prince Charles's love interest are best remembered for her backlit transparent skirt, but she quickly learned the style ropes and, having done so, began to use them to her advantage.