Louis Vuitton stages flamboyant cruise show in Japanese mountains
The Miho Museum in Japan is 9,628km from its Paris headquarters, but Louis Vuitton was founded to make expensive luggage, and glamorous globetrotting is very much the point.
The vogue among powerhouse brands for staging elaborate catwalk events showcasing their cruise collections continued this weekend with Louis Vuitton's show at the museum, as famed for its spectacular setting in the Shigaraki mountains as for its collection of Japanese antiquities.
Cruise fashion has always been about status. Conceived to service a luxury customer for whom every holiday demanded a flamboyant new wardrobe, the cruise concept has become an elite catwalk showdown between the world's premier fashion houses.
The hundreds of guests who flew in from all over the world to attend the show, including the actors Michelle Williams and Jennifer Connelly, were driven from their Kyoto hotels to the venue by chauffeurs wearing Louis Vuitton-monogrammed driving gloves.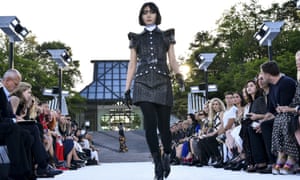 The Louis Vuitton designer Nicolas Ghesquière has staged each of his cruise shows at a far-flung architectural landmark. This time, the show was held at the entrance to the Miho Museum, where a metal tunnel emerges from verdant mountainside and runs across a suspension bridge. The bridge – designed by IM Pei, who created the Louvre's glass pyramid – formed the catwalk for the show on Sunday.