Danish model told to drink only water for 24 hours to slim down
A model who was told to drink only water for 24 hours before a Louis Vuitton show before having her appearance cancelled has hit out at the treatment that she and others in the industry face. Ulrikke Louise Lahn Høyer, a 20-year-old model from Denmark, who is a US size 2 or UK size 6, was allegedly sent home from the Louis Vuitton Cruise show in Kyoto last week after a fitting.
Writing an open letter on Facebook, the Danish model and current face of Chloé described how the show's casting agent told Hoyer's agent: "Ulrikke needs to drink only water for the next 24 hours." Described as having "a very bloated stomach" and "bloated face", she was sent home from Kyoto.
Høyer is the current face of Chloé's S/S 17 campaign, has been photographed by Tim Walker and David Sims and has been on the catwalk for Stella McCartney, Marchesa and Oscar de la Renta.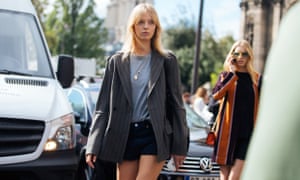 She described the standards models are held to as "completely unattainable and directly damaging to the human body … Many of the girls don't have their periods, and/or [have] changes the colour of their skin because of bad and incorrect nutrition, and almost everyone [has] a completely distorted relationship with food."
She added: "What should have been a truly amazing and unique experience ended up being a very humiliating experience." Louis Vuitton has declined to comment.
As Høyer admits in her post, cancellations are expected. But the verbal shaming, and what she describes as a "lack of respect and decency", suggest a new low in industry standards, echoing industry watchdog James Scully, who said in a talk in December that the industry was in danger of treating models "like Tinder swipes".
The responsibility of models' welfare traditionally falls with the casting agent, who chooses the models, oversees the fittings and is responsible for the models during the show.