Now, Protect Your Google Account With Password Alert Extension for Chrome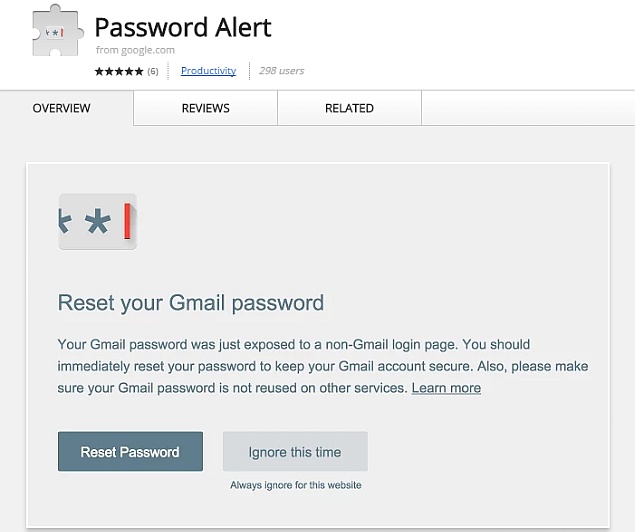 Google, in a bid to better online security for its users, has introduced a new extension for its Chrome browser called Password Alert. The extension's purpose is two-fold – alert users whenever it detects they are feeding their Google account passwords onto a phishing or non-Google website, and to help ensure users do not use their Google account password as a credential on any other site as a best practice.
Released on Wednesday, the open source Password Alert extension for Google Chrome shows an alert and prompts users to change their passwords whenever they type their Gmail or Google account password into a non-Google or fake Google login page.
Google explains that once the extension is installed, Chrome will remember a "scrambled" version of the user's Google account password. The firm however added that "it only remembers this information for security purposes and doesn't share it with anyone." So, whenever users feed the same password on a phishing website, the browser shows up an alert.
The Password Alert extension for Google Chrome can also be configured for Google for Work customers, including Google Apps as well as Drive for Work. The company administrator can install the extension in the company domains and receive alerts if Password Alert detects an issue. "This can help spot malicious attackers trying to break into employee accounts and also reduce password reuse," added the Google blog post.
Google in February introduced a specific red flag that warns users of websites that encourage the download of unwanted software. The firm said that Google Chrome browser will also warn users about the websites that "might attempt to trick you into installing programs that harm your browsing experience." Furthermore, the Mountain View-based tech giant added further protection from unwanted software downloads to Google Search as well. "Google Search will now incorporate signals that identify such deceptive sites. This change reduces the chances you'll visit these sites via our search results," noted the Google Online Security blog.