Can't Keep Up? Catch Up With A Tech Career
It's not your fault if you can't keep up with your expenses. The global economy is challenging for everyone. The cost of living often exceeds what most traditional jobs pay. Even if you live frugally, you may still have a difficult time keeping up.
One way to turn this situation around is to change careers. If you get a tech career, your income will far exceed your expenses.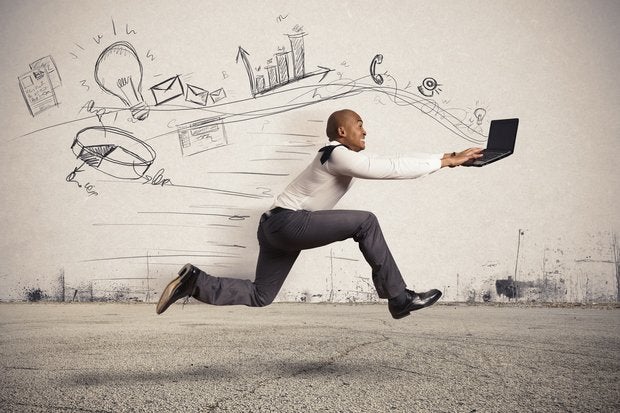 The reason tech careers pay so well is two-fold.
First, it's restricted to only those willing to learn the complexities of technology. Second, our world is changing and there is a huge demand for this type of knowledge and skills.
Get A Computer Science Degree
If you're a young person, you probably have no problem with getting on the tech bandwagon. In fact, chances are that you're already in it.
However, if you're middle-aged, you may think the whole idea of getting into the technology industry daunting. Technology can be intimidating for newcomers.
According to Gwynedd Mercy University, a Computer Science Degree will equip you for "programming, web design/multimedia, networking, architecture, and database design and administration."
Once you qualify, a whole new world of job opportunities awaits.
Here is what the US Bureau of Labor Statistics says about growing tech careers:
"For most of the past 20 years, employment in computer systems design and related services has grown rapidly. From 1990 to 2001, employment in the industry rose quickly, as many businesses began to invest in computer systems. Between 2001 and 2011, employment in computer systems design and related services increased by 232,300 jobs or 18 percent. (See chart 2.) This increase came in spite of the steep decline in employment between 2001 and 2003 that followed the dot-com crash in 2000, when investors sold off their stock in overvalued dot-com companies, resulting in tremendous losses of money and jobs in Internet technology. Since 2003, employment in the IT industry has grown by 37 percent. During the recent recession (December 2007 to June 2009), the industry lost only 1 percent of its workforce in 2009, but otherwise maintained employment. By 2010, employment had recovered and was higher than it had been in 2008."
3 Common Myths
Myth #1. I'm too old to learn.
One reason why the idea of a middle-aged person going back to school and updating their knowledge and skills to get a high paying job is intimidating for so many is because young adults and teenagers appear to have the time, inclination, and ability to learn faster.
This line of thinking assumes that one is encroaching on youthful territory and will have to compete with them. But, you can learn something at any age. The human mind is highly adaptable. If you want to learn something, then your commitment will make it happen. Technology is not some exclusive field that only the young can learn.
As an older person, you are likely to be disciplined in your studies and try a lot harder. Your maturity, mental and emotional stability, and work ethic and reliability all make you an excellent student.
Anna Correy Scull, who passed away at age 88 years, got a Computer Science Degree at age 75.
Myth #2: Companies would rather hire younger people.
Another myth that might hold you back is that you think companies would rather hire someone who is younger. Actually, companies hire based on meritocracy. If you know how to program something better than a younger candidate, a company will hire you. Why? It's because you have a better chance of improving their bottom line.
If younger people do happen to have more tech jobs it's because they are the ones applying for these jobs. Older people don't apply because they don't go back to school to learn these things.
Myth #3: I don't have the money or time to do it.
You can get the money you need from grants and scholarships. Numerous foundations are willing to pay for educational goals.
There are many online and offline ways that you can learn computer science. You can become an undergraduate and go the traditional academic route. You can become a commuter. You can take online courses. There are many options if you are willing to look into them.
A Radical Idea for a Whole New Life
While there is a focus on getting people in traditional professions to incorporate more technology into their work, you rarely hear about anyone suggesting that they get out of their dying, low-paying profession and get a Computer Science degree and irrevocably change their economic situation. The idea is too radical for most people.
However, if you're not going anywhere in your life, stuck in a stagnant career with limited options and financial struggles, it's because the world around you is changing. You can either choose to adapt and thrive or continue to pursue ideas whose time is fading away. If you want a new life, you have to become a completely different type of person.